Freaky things you can say to your girlfriend during sex – The art of dirty talk.
Advanced Dirty talk skills
In this article, you will learn advanced dirty talk skills and freaky things you can say to your girlfriend in the bedroom or over text/video if you're in a long-distance relationship that will drive her crazy and create an unforgettable sexual experience for both of you.
The perfect erotic balance 
What most women genuinely dream about is to have a partner that is, on one hand, consistent, loving, that they feel safe and comfortable with, that shows up, and who is of integrity.
And that, on the other hand, can make her feel like a dirty little ho*e sometimes when the time is right. And this is, unfortunately, something that many men don't know exactly how to do. 
Most men are either on the safe side of the spectrum, which is wonderful and important for her nervous system and general well-being, happiness, and health, but it can also be sexually boring.
On the other hand, you have the narcissistic "bad boy" that can easily embody a sense of dominance and create an erotic power imbalance that is very attractive in bed and very sexually alluring. But on the other side, Is a very unsafe partner to be in a relationship with.
 If you want to be a master or lover, you must learn to master both.
You want to learn to be able to be a consistent, dependable, safe, compassionate lover that also can invoke and embody the sense of dominance and power in bed, In a playful, compassionate, and loving way within a sexual dynamic.
And in this way, create the necessary polarity and sexual tension in your connection to make it really pleasurable in bed.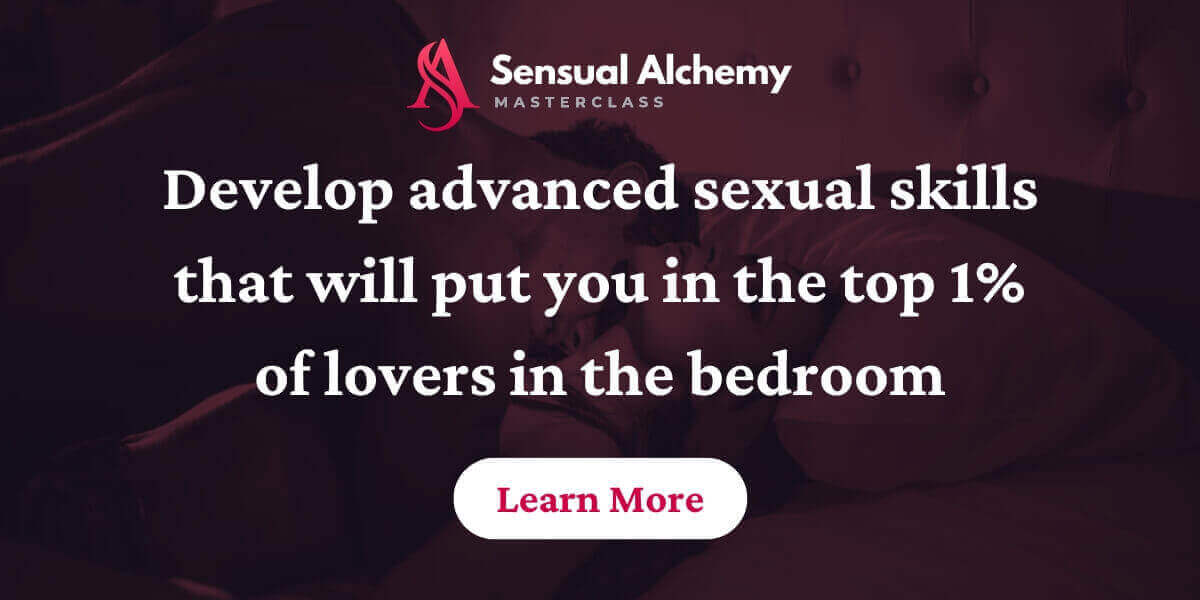 The #1 sex organ is the mind
Do you know what the number one sex organ is in a human's body? No, it's not genital; no, it's not any of the physical erogenous zones. 
Those are all very important, but the number one sex organ in the body is the mind. 
There are many ways to stimulate your partner's mind psychologically, but today we will focus specifically on dirty things that you can say to your girlfriend, and we will divide them into four main categories:
Empowering, overpowering, praising, and degrading dirty talk. 
But first, a few important disclaimers before we get there:
This is for all sexual orientations and gender identities 
In my content, I often address mostly heterosexual/cis men and women.
Nevertheless, this video is absolutely directed toward anybody from any sexual orientation or gender identity. 
The reasons I do so are 1. for the sake of simplicity and comfort.
And 2. These usually tend to be the majority of my audience. Since I am one myself, I find it easier to address people with that I can most easily resonate with their living experience.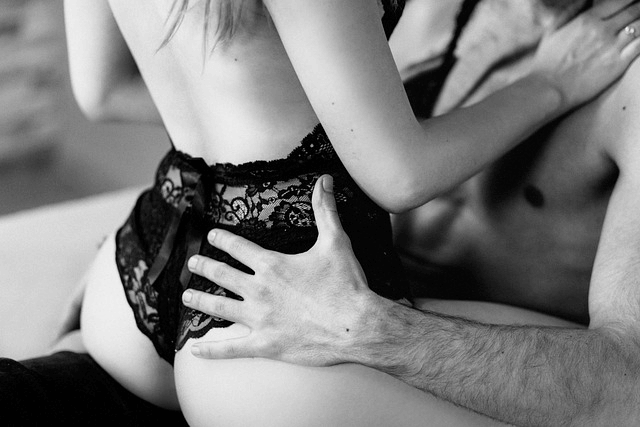 Negotiating desires & Boundaries before sex.
Another thing to remember is that we're going to talk about some things that are a little bit on the kinky freaky, and degrading side. It's imperative and crucially important that you negotiate desire and boundaries with your partner:
Ask your partner curiously: "What are you curious about experiencing? Will you be interested in trying X with me?" "How do you feel when I call you X?"
 Find out their boundaries: "Are there hard limits?" "What don't you like or enjoy experiencing?"  

 
Establish safe words or clear ways in which your partner can signal or let you know in the middle of a session, in the middle of sex, that something doesn't feel really good and they want to stop or shift to a different energy or different kind of mood.
Consent is so fucking sexy
In addition, before you do anything, ensure you have your partner's enthusiastic consent.
This is true for any sexual intimate connection, no matter if it's someone that you just met or someone you've been dating for a while. 
Unlike negotiating desires and boundaries, which is largely a verbal process and happens mostly before an interaction, consent is all of that and an ongoing moment-to-moment process.
It is your responsibility always to feel your partner's body language and mood and ensure you are still on a full-body "fu*k yes."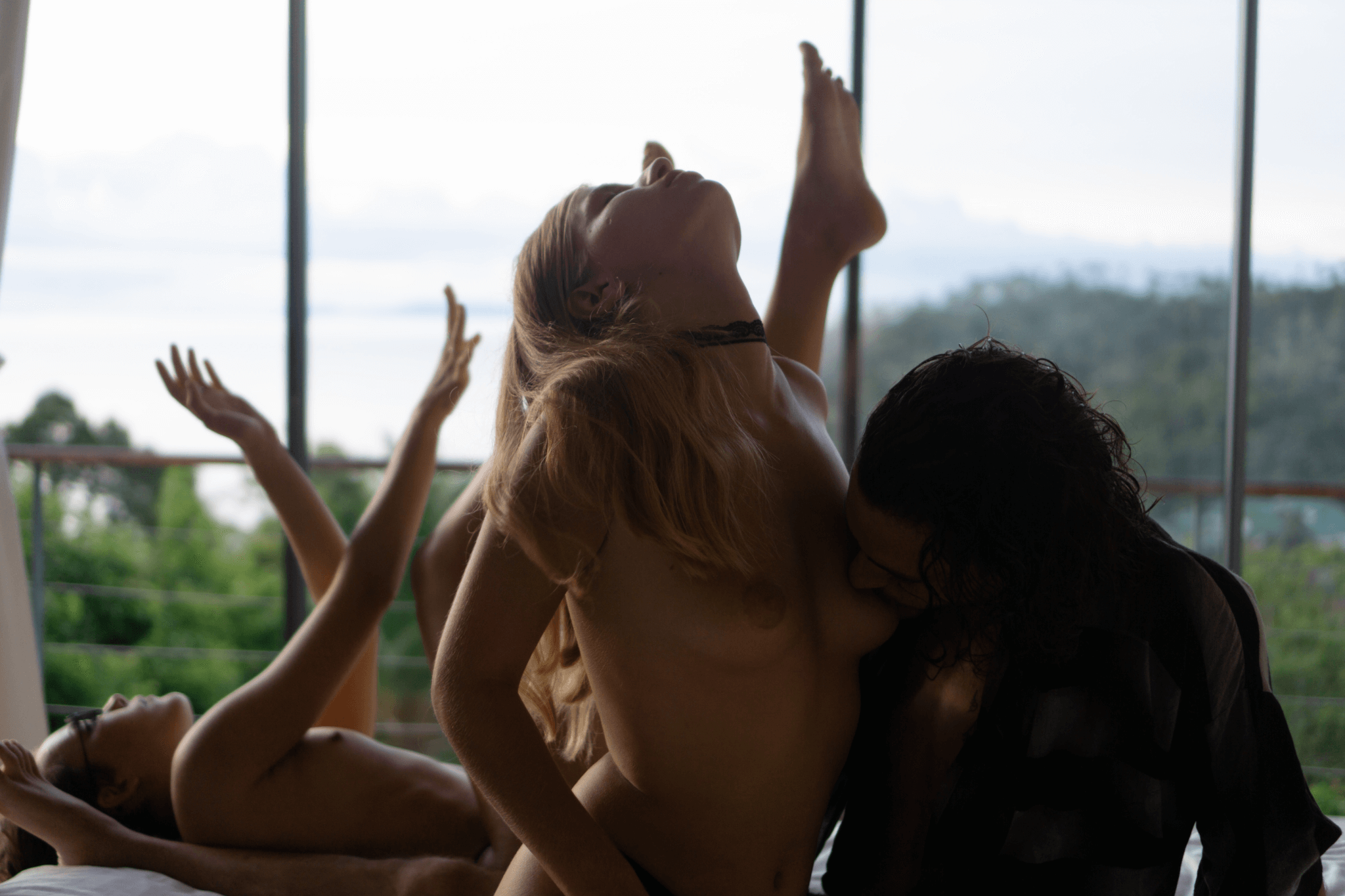 Superior lover skills "talk dirty to me."
Part of the art of consent, and being a better lover in general, is learning to read the moment and become very aware and present so you can read your partner's body language and responses.
Whether they are conscious responses that she can verbalize or unconscious responses that just her body is showing you.
This level of sensitivity and presence is your best ally in creating unforgettable and mutually pleasurable sexual experiences. 
No lover is the same and likes the same things, and no moment is like any other moment.
Sometimes the mood asks for softness, and other times for ravishment and intensity; other times, it can change from one moment to another. 
Become sensitive to subtle shifts so you can navigate accordingly.
Find your unique dirty-talking style. 
As I mentioned, we're going to talk about it in four different categories of dirty talk: Empowering, overpowering, praising, and degrading dirty talking.
I'm going to share with you some examples of things you can say, but please don't take it word by word and just copy what I'm saying.
Instead, find your own style, your own creative, unique way of dirty talking with your partner based on what you both like specifically. 
Unleash your inner erotic artist; you can do it!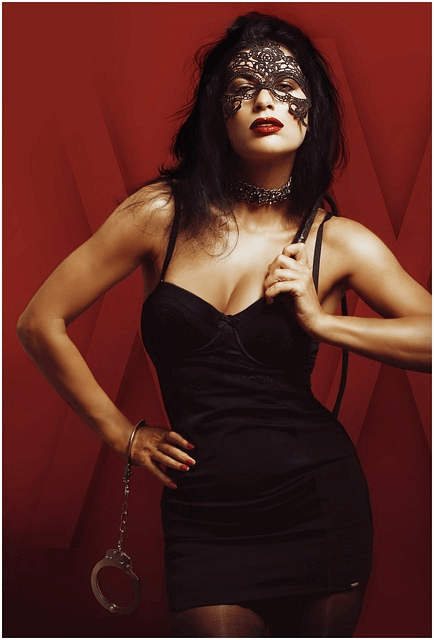 Empowering dirty talk
Empowering freaky things you can say to your girlfriend in bed are everything that makes them feel empowered, strong, and in their inner power. This is where you want to begin in your dirty talk game.
Here are just a few examples :
You can start calling your partner "my queen" or my "Goddess." Tell her that you worship her body.
It can also be things that make her feel comfortable in her body, so tell her how much you like certain parts of her body and how much you find them delicious and attractive.
You can tell her, and this is a big one, how much you absolutely love the fluids, the smell, and everything that comes out of her body;
this will make her feel incredibly comfortable.
Another very empowering is If you let your partner take the lead.
You can either say to your girlfriend, "let me know what to do," "I'm gonna do anything you'll say," or "I'm here in service for your pleasure."
Not every woman feels comfortable taking the lead or talking dirty, especially if she's not used to it, but it can be very empowering to slowly and gradually build the comfort and confidence necessary between you for her to take the lead and actually do what she likes.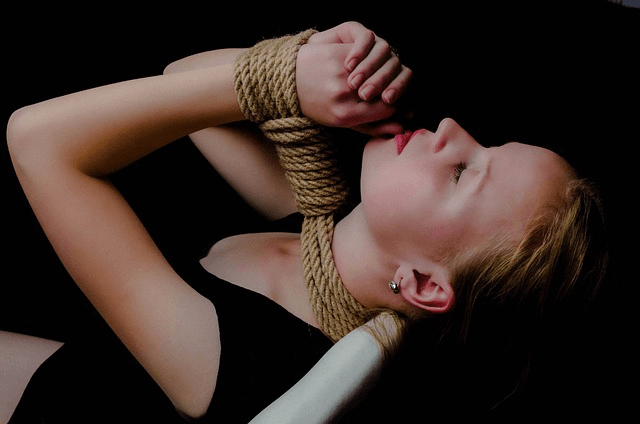 Overpowering dirty talk
On the other side of the spectrum, the polarity of empowering is overpowering dirty talk. 
These are dirty things that you can say that create a fun power dynamic that makes her feel that she can surrender to you and you take the lead.
This is a fun one because not only it creates a sense of anticipation and sexual attraction but makes her feel relaxed because she doesn't need to think about your pleasure.
You're gonna take leadership, and you're gonna lead her into the most ecstatic, pleasurable experience.
Here are a few examples:
Examples can be things that have to do with ownership: "Who does your body belong to?" "Who does your pu*sy belong to?" "Your pu*sy is mine." "Your body is mine; I'm gonna use your body for my pleasure." "I'm gonna take your body and do whatever I want with it."
You can also tell her what specific things you're about to do with her. 
Other examples of overpowering stuff that you can say are things that have to do with dominance, for example: 
You can tell her what to do. "I want you to go on your hands and knees and do X for me" "Come here and suck my c*ck." Things of that nature have to do with giving her directions on what to do and, in that way, taking the lead.
Giving her restrictions such as "You are not allowed to orgasm until I tell you." Or " you can't touch my c*ck until I permit you."

That restriction creates erotic tension because when you tell someone not to do something, just the thought of it creates a lot of anticipation and sexual tension for her. Which will make sex much more fun for both of you.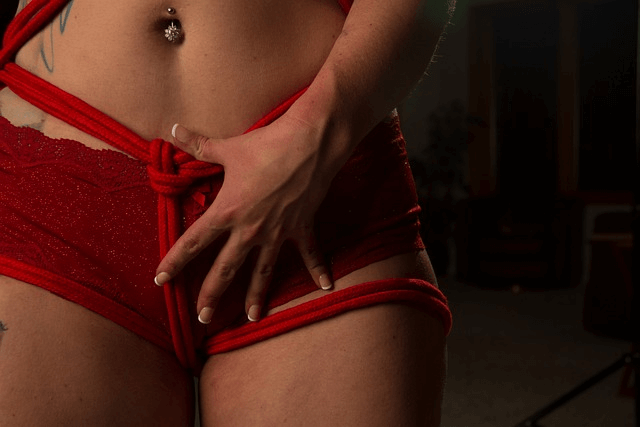 Praising dirty talk
The next thing on our list is praising dirty talk.
These are dirty things that you can tell her that is also empowering but more specifically connected to praising her or making her feel good about what she does and how she looks. Here are a few examples:
Let your woman be called a "good girl" when she does something pleasurable to you.
You can also say things like, "be a good girl and do X for me."
 When she does something you like, you praise her for how she does it; for example, say dirty things like "You know how to suck my c*ck like no one else does." 
And generally praising her for what she does when it feels good, let her know when it feels good. "I love when you do X." "I love the way you touch me." "I love the way you go down on me." "I love how your pu*sy feels," etc.
Praise her for what she does, who she is, and how she makes you feel physically, emotionally, and spiritually.
Everything has to do with praising her and letting her know how incredible, unforgettable, and unique of a lover she is.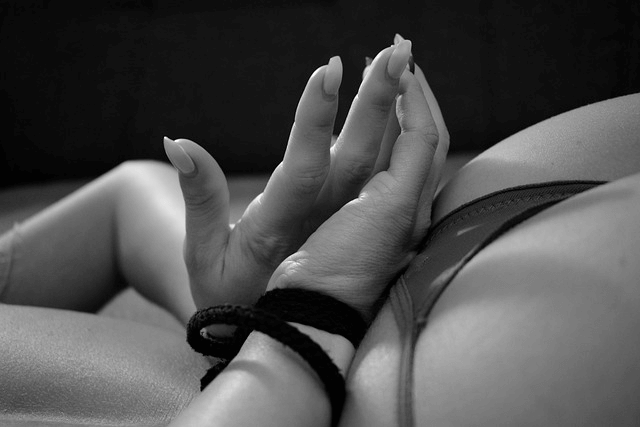 Degrading dirty talk
And I save my favorite type of dirty talk for last. This is all about degrading dirty talk. Now, again, you must ensure that this is what she wants, that there is enthusiastic consent, and that you have negotiated this prior.
Make sure you know at least the general direction of what she likes to experience and what makes her excited and dripping wet when it comes to degrading dirty talk. 
Remember that while In the bedroom; It's fun to create some power imbalance playfully and consciously because that creates a lot of erotic pleasure.
You must keep it within the parameters of the sexual connection and not a power dynamic that keeps going on for the rest of your relationship because outside of the bedroom, you are both absolutely equal, worthy of love and appreciation, human beings. 
Some examples of freaky degrading things you can say to your girlfriend are:
Anything that has to do with being called dirty things like a who*e: "Who's my dirty little who*e?"  "Look at you. My dirty little ho*e addicted to this co*ck" etc.
Being called "slut": "Who's my beautiful horny little slu*?". "Look at you, just craving this c*ck in your mouth," "You horny little slu* just waiting for me to fu*ck you well." etc.
Being called a "f*ck toy": "You're such a good little fu*ck toy, aren't you?" "Get on your hands and knees on the bedroom floor and do X like the f*ck toy that you are," etc.

Make her yours – a dirty talk repertoire
Another pro tip when it comes to degrading is not just to say to your girlfriend "a who*e" or "a slut" but to call her "my who*e," etc.
That gives her the sense of love and compassion, and appreciation that will really drive the point home.
If you just degrade her, unless she's specifically into this type of BDSM/kink/fetish explorations, it can feel unloving or uncomfortable.
More often than not, she wants to be degraded playfully and lovingly, and compassionately while feeling your love at that moment. Being degraded for the sake of her pleasure.
So when you call her "yours," the real power is still in her hands, so when you tell her you are my dirty little wh*re, you are keeping her at arm's length in terms of loving appreciation and connection, and that's really, really important to remember.
Aftercare
One last thing that is absolutely important to remember, especially when you go to the more degrading, overpowering, power-dynamic stuff.
It is to do proper aftercare. It's something that you will talk about with your partner beforehand. 
Ask them what kind of aftercare is important for them after a rough sexual dynamic.
Is it cuddling? Is it showering together or cleaning them lovingly? Bringing towels, water and maybe some sweets? 
Make sure to come back together to a place in which you are equal again, and you are merging together in the space of love and putting aside the power dynamic until the next time that you're gonna connect sexually.
In conclusion
I hope this gave you enough ideas of the kind of freaky things you can say to your partner in the bedroom.
As you have seen, a good balance of safety and 'danger' is important to create sexual tension and erotic attraction. 
Again, this is for anyone of any gender any sexual orientation. Remember the importance of enthusiastic consent and a full-body "fu*ck yes."
Negotiating desires and boundaries properly. Remember that what works for one partner doesn't necessarily work for another. Be creative, be mindful, and be sensitive about it.
If you want to go much deeper into this kind of stuff and learn many more psychological techniques and tricks that you can do in the bedroom, that will absolutely transform your sex life and relationships. All with live demonstrations with my real-life lovers:
Check out my video courses for men and for women
If you want to have much more personal support and you want to work one-on-one with me, you can apply here.
Until next time, much love
Yuval x