Introduction to Bondage for Beginners
Sensual bondage is a practice that combines the restriction of movement for the sake of heightened eroticism and pleasure.
It can be used for both aesthetic and pleasure purposes. In this article, we'll explore the different types of sensual bondage, discuss the importance of safety in bondage play, and share some simple bondage for beginners techniques.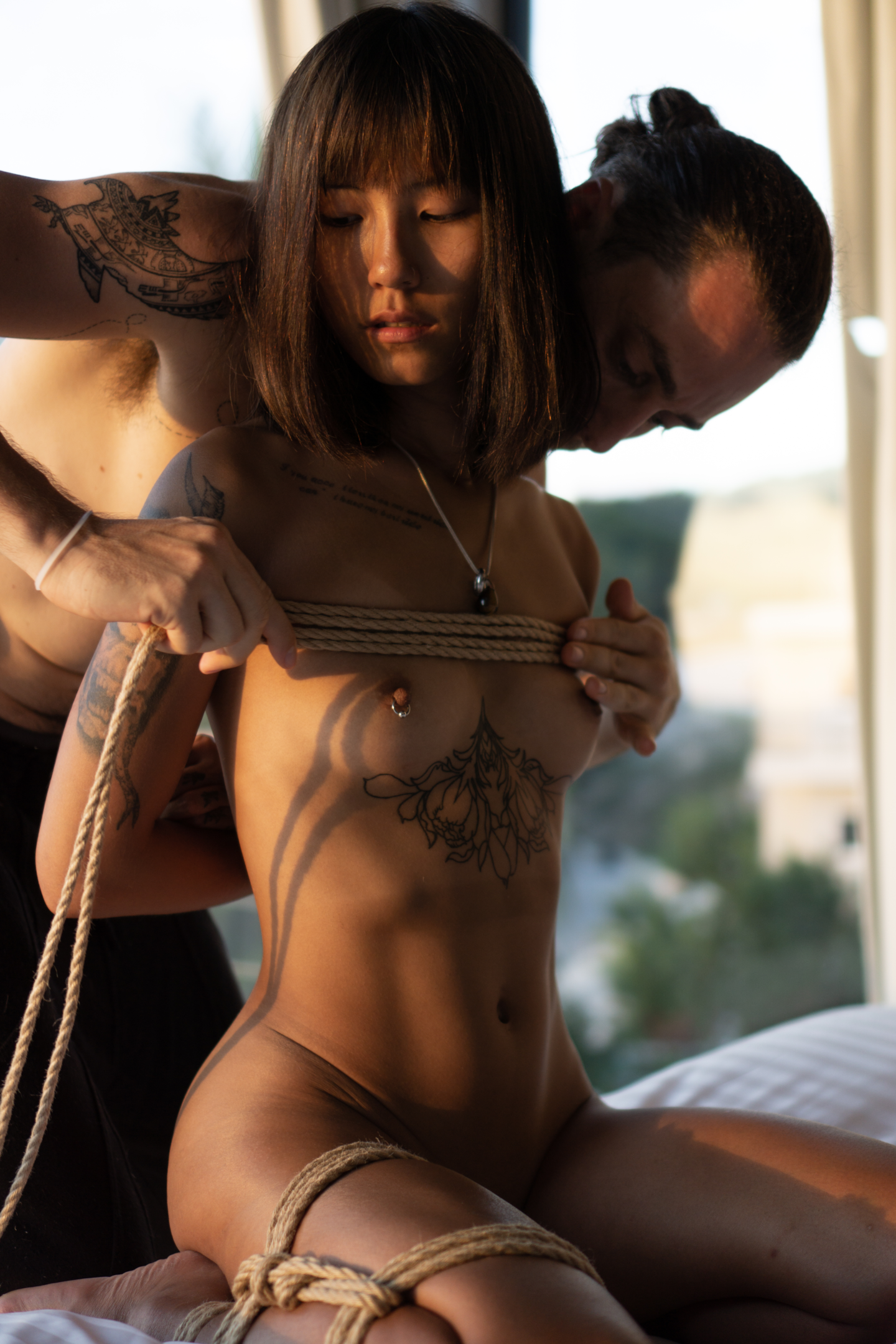 What and Why Bondage Play
Exploring bondage involves facilitating a certain restriction of movement to amplify eroticism and pleasure. Sex toys like simple handcuffs, bondage tape, leather handcuffs, or (my favorite) rope bondage can be used to create this unique experience. Ropes, in particular, are versatile and readily available, making them a popular choice for those exploring this practice.
Adding a bondage scene into your dynamic can be incredibly pleasurable, as it not only creates a power dynamic in which one is leading and the other surrenders.
But also, when you restrict one channel of sensory experiences, such as a body part, vision, or even hearing, the other senses become more sensitive, making your bondage partner entire body more receptive to touch. In this way, erotic bondage facilitates heightened sensory experiences.
In my personal journey, studying and practicing bondage, beyond merely enhancing my sex life and abilities in the bedroom, taught me a lot about the human body, attunement, sensitivity, and deep intimacy.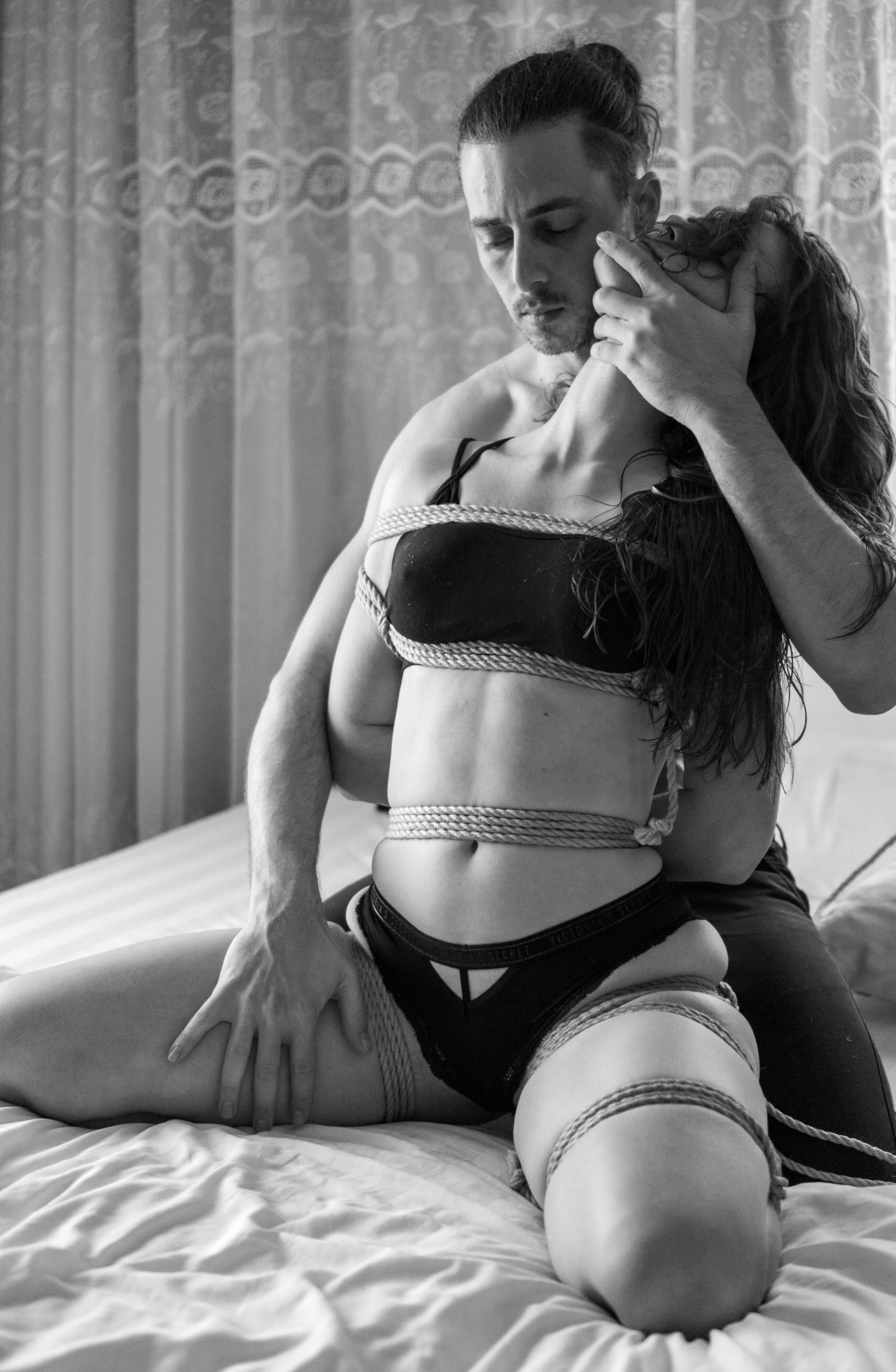 The Importance of Enthusiastic Consent in bondage play
Due to the vulnerable and sensitive space bondage creates, it's important to ensure both partners are comfortable and safe.
Before engaging in any form of sensual bondage (or any erotic/sexual experience), it's crucial to obtain enthusiastic consent from your partner.
This means their verbal, physical, and emotional agreement to participate in the activity.
A very powerful framework for such conversation is the RBDSM. (link to article)

Types of Bondage Play
There are several varieties of bondage to consider when exploring this practice.
The first is the traditional BDSM style, which often involves leather or other props to create restrictions that are primarily meant to enhance sexual pleasure.
Using bondage in this way in the bedroom is an incredible and exhilarating experience, but it's not the only type out there.
Another type of sensual bondage, which I have been practicing for many years myself, is the art of 'Shibari' or 'Kinbaku'.
This Japanese art of erotic bondage focused on the beautiful aesthetics of knots and ties and originated from special sets of knots once used for tying up prisoners.
An advanced form of this art includes the full bodily suspension of another using ropes in a verity of visually appealing forms.
Here are a few simple techniques to begin incorporating sensual bondage into your intimate moments: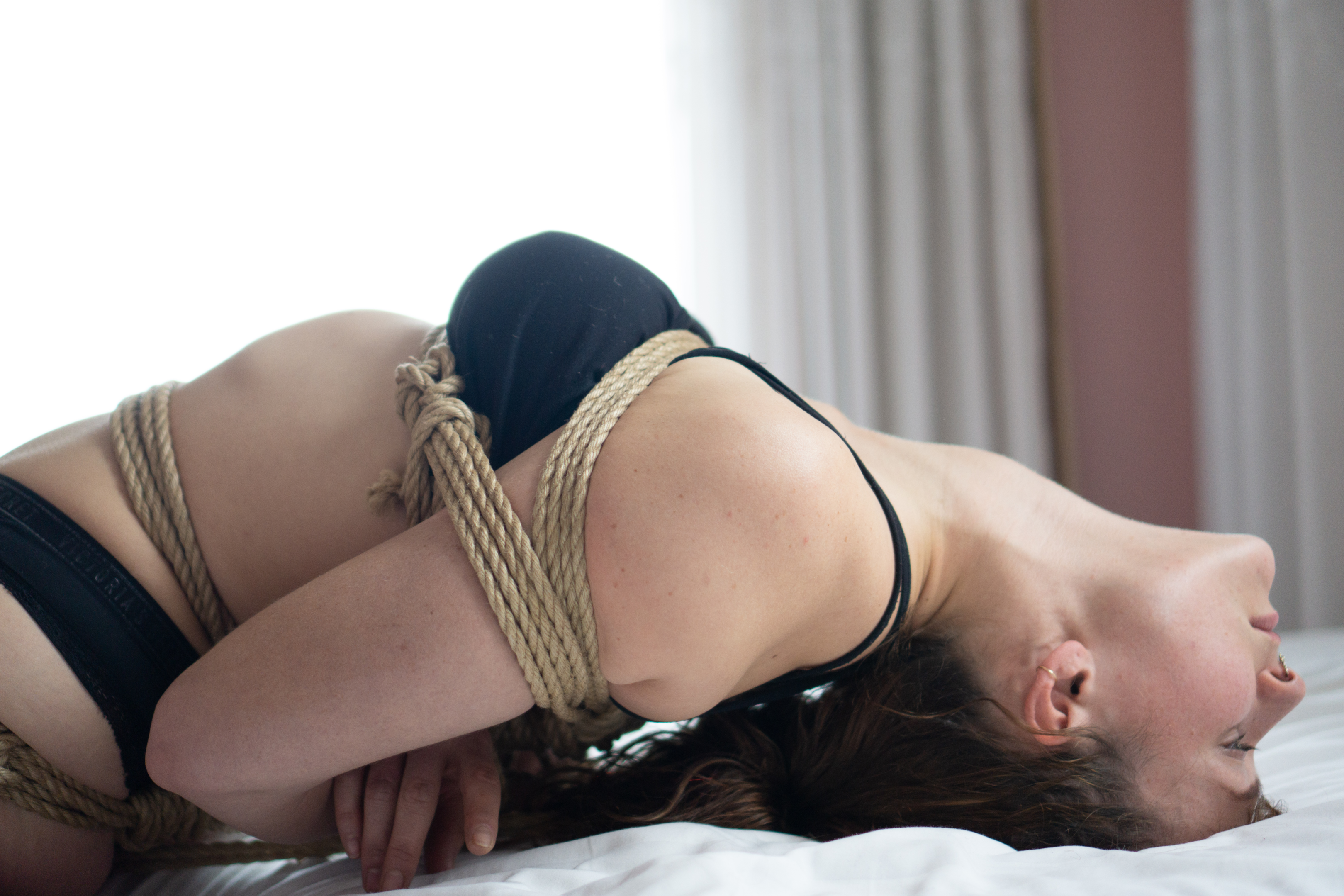 Choosing the Right Rope bondage
Professional Shibari rope made from jute is ideal for those wanting to explore the art of kinbaku.
However, if you're interested in bondage for beginners and only going to use it in a sexual context without suspension, any soft cotton rope from your local store will suffice.
Basic Hand Ties
The first technique to learn is hand ties, including single and double-column ties.
These ties allow you to restrict your partner's hand movements, giving you control over their hands and opening up numerous possibilities for sensual exploration.
You can see me demonstrate an example here

Quick and Easy Knots
For a faster and simpler knot option, try the quick-release knot.
This knot is safe and easy to put on and take off, making it a great choice for those new to sensual bondage.
You can see me demonstrate an example here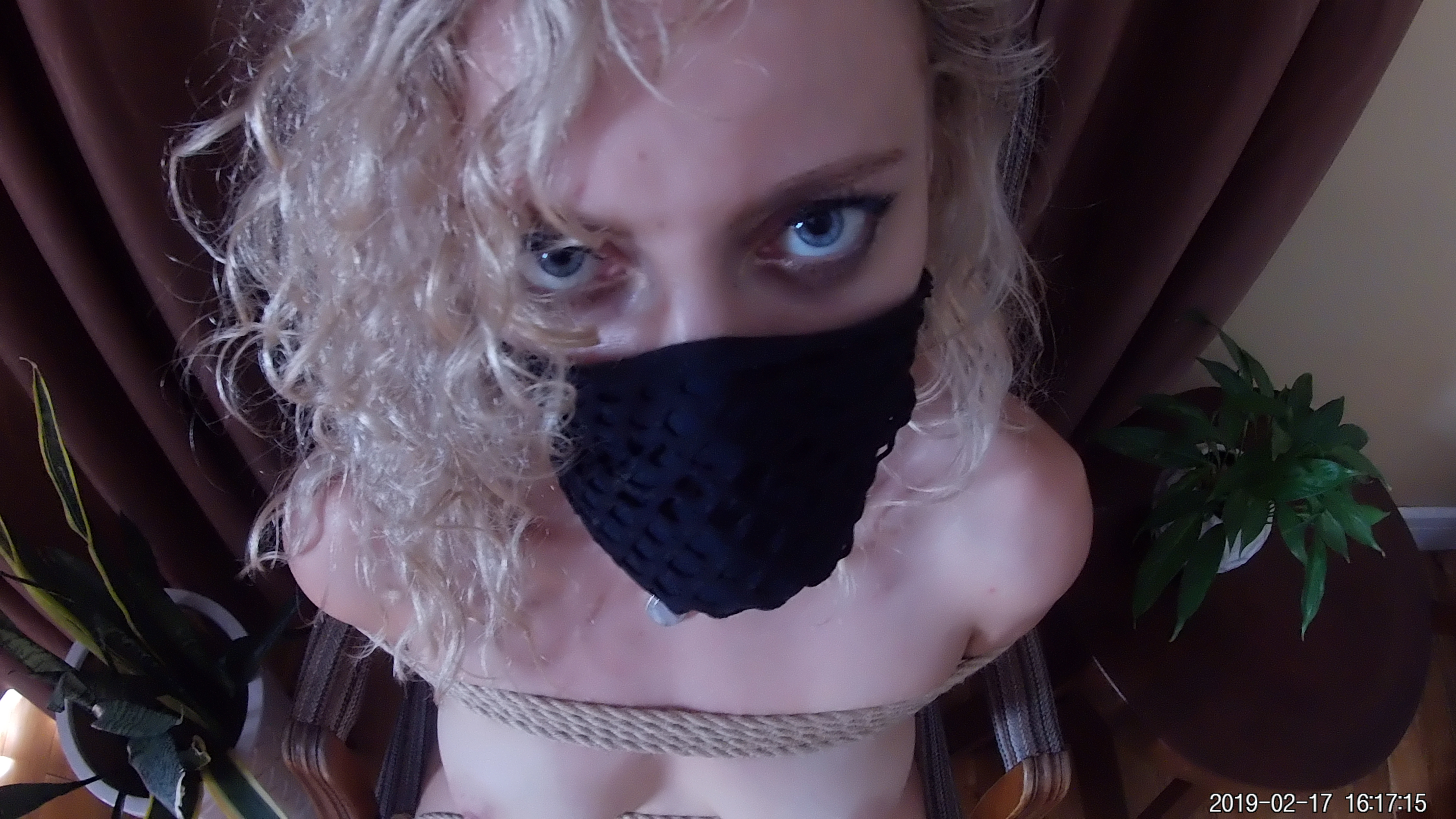 Explore Bondage – Creative Applications
Once you've mastered basic hand ties, consider experimenting with different scenarios of bondage play and positions.
You can tie your partner's hands above their head, between their legs, or even to the bed or a chair.
The possibilities are endless and can provide a unique sensory experience that amplifies sensations in their body.
Exploring Sensory Bondage Play
Incorporating sensory play into your sensual bondage experiences can further enhance pleasure and intimacy.
Experiment with various sensations, such as temperature (ice cubes or warm wax), textures (feathers or soft fabrics), or even gentle pain (spanking or pinching).
By stimulating different senses, you can create a truly immersive and unique experience for your partner.
Advanced Bondage Techniques
As your skills and confidence grow, you may want to explore more advanced bondage techniques. Some options include:
Hogtie: This position involves tying your partner's wrists and ankles together behind their back, limiting their movement significantly.


Spread-eagle: In this position, your partner's wrists and ankles are tied to the corners of the bed or another surface, leaving them exposed and vulnerable.


Hip harness: Another wonderful knot to try out is a sexy hip harness that feels good on your partner's body by spreading their butt cheeks and intensifying pleasurable sensations as well as giving you full control of their movement for a variety of sex positions, especially doggy style sex position
If you would like to learn these knots and many more demonstrations of sexual practices that will drive your partner wild in bed, check out my video courses.

Building Trust and Communication
As you explore sensual bondage further, it's important to prioritize trust and communication with your partner.
This practice requires vulnerability and openness, so it's crucial to maintain an ongoing dialogue about boundaries, desires, and comfort levels.
Regularly check in with each other and be willing to adjust your approach based on feedback as well as practice getting ever more attuned to your partner's subtle bodily feedback and nuanced movements and sounds.
Remember, this is an activity only viable for mutual empowerment and pleasure, not a performance you put on to feel good about yourself.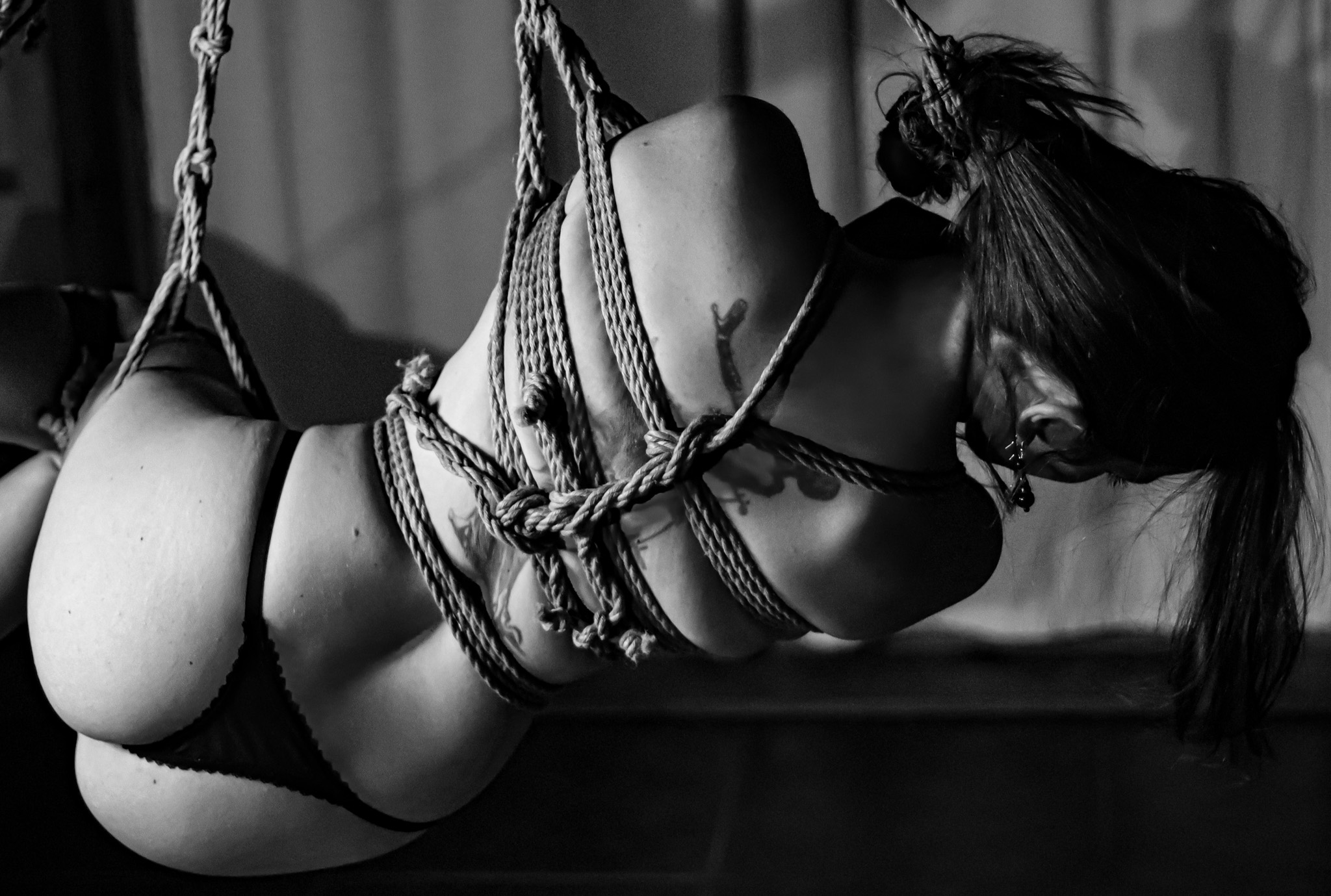 Safety First
Safety should always be a top priority when engaging in sensual bondage.
Make sure to keep scissors or safety shears nearby in case you need to quickly release your partner from the restraints.
Additionally, ensure that the ties aren't too tight and won't cut off circulation or cause any physical harm.
Establish a safeword or a non-verbal signal that your partner can use to indicate they need to stop the activity immediately.
The Role of Aftercare in bondage sex
Aftercare is an essential aspect of sensual bondage for beginners, advanced levels, and any BDSM activity.
It involves taking care of your partner physically and emotionally after the experience.
This can include cuddling, gentle touches, verbal reassurance, or even offering a warm blanket and a glass of water.
Aftercare helps both partners transition back to their everyday selves and provides an opportunity to discuss the experience and any emotions that arose during the activity.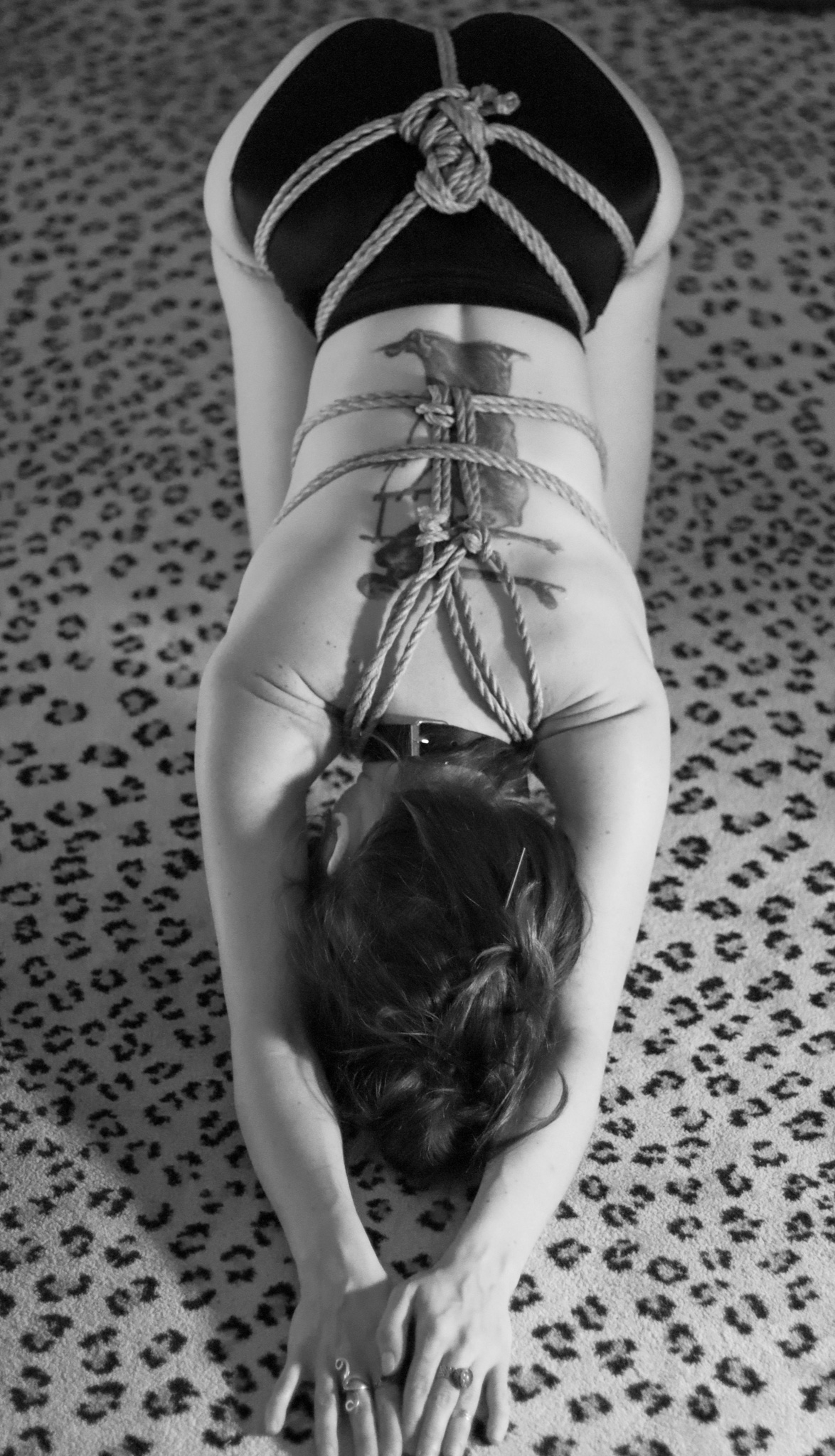 In Conclusion – bondage for beginners
Sensual bondage offers a world of exploration and pleasure for those who are interested in expanding their intimate experiences. By prioritizing trust, communication, and safety, couples can delve into this practice and discover new ways to connect with one another on a deeper level.
Always remember to obtain enthusiastic consent, practice proper aftercare, and enjoy the journey of sensual discovery.